When it comes to interior design, the powder room can be one the most exciting rooms in your home to design. As we don't spend a lot of time in our powder rooms this gives us the opportunity to do something a little different and perhaps a little crazy as we won't get tired of these rooms as quickly as if you applied this same principle to a bedroom or living room.
These small spaces are easy to overlook from a design perspective as they are a necessity and often treated as simply a functional space, however I consider the powder room to be one of the most important rooms in the home. Every guest that you bring into your home will see your main living areas, and many of them will also see the powder room. This is why I like to treat this room as a canvas to showcase your design talent and create a striking and bold impression. Let me give you some small powder room ideas and inspire you to step out of your interior design comfort zone and get creative!
Make the mirror the star
Just because this is a petite space doesn't mean we need to keep everything else on the small side. In fact, you should do the exact opposite. When selecting a vanity mirror don't be afraid to choose something large as the larger the mirror, the more open and more spacious the room will feel which is exactly what we want in a tight space. Don't be scared to choose a mirror with a unique or unusual shape, or a thick textured frame to create some visual interest. If you want a more classic look then opt for a frameless beveled mirror that fills up the entire wall. Doing this will create a sense of space and, depending on your color scheme, make the room feel bright and airy.
Don't be afraid of color
Oftentimes people treat their powder rooms as nothing more than a functional space and decorate it with little thought. Don't be scared to try something different and add some color. Introducing color into a powder room can make a bold and dramatic impact and give your space some life and personality. And don't think you have to stick to lighter colors only. Dark color schemes work brilliantly in small spaces such as these. It creates an intimate, enveloping atmosphere we want from these rooms.
Pattern & Texture
When it comes to making a statement go bold with patterns. Wallpaper works phenomenally well in small areas as you don't need to use as much to create impact. Chevron or trellis patterns are popular as well and really give a wow effect. Texture also goes a long way when creating a luxurious feel for your space. If you aren't a fan of loud or busy patterns why not go for a more subdued wall covering such as a grasscloth wallpaper instead? It gives your walls texture and is timeless in its sophistication.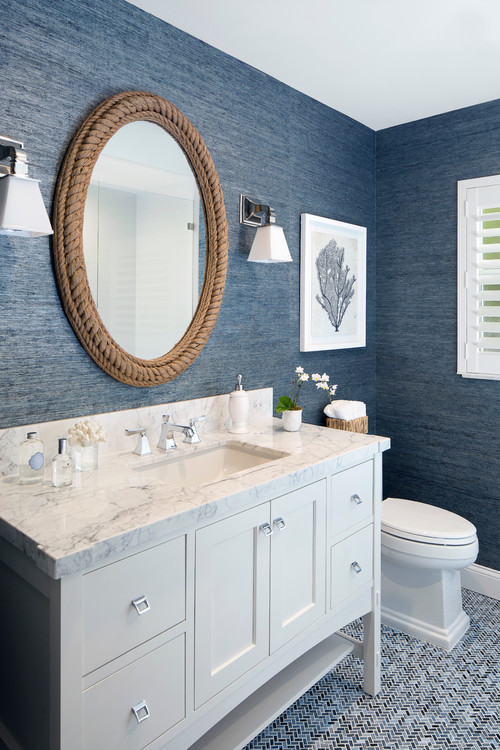 Styling with artwork
Who says wall art doesn't belong in a bathroom? You can easily glam up your powder room with a large canvas or framed drawings and don't be scared to veer on the larger side. Large scaled artwork in a small space fills up the walls and actually makes the space feel larger. Give your guests something to look at and admire.
Don't skimp on the storage
Just because this is a small space doesn't mean you should neglect storage. Instead of using a pedestal sink which is impractical, incorporate a vanity with drawers or cupboards to give you a place to store towels, paper and other products. Wall mounted or open shelving is also a good idea as they don't take up much visual space. For even extra storage use a mirrored bathroom cabinet above the vanity instead of a traditional mirror.
Let there be light
Good lighting is important in a powder room as your guests most likely will want to 'powder their noses' before returning to the party. Make sure your vanity area is well lit. A down-lighter in the ceiling works well to provide overall light but wall mounted sconces or hanging pendants on either side of the mirror maximizes eye level task lighting. Avoid overdoing the ceiling lighting as we want to keep the powder room relatively subdued and welcoming.
Show them your personality
The key to good powder room design is to treat it as you would any other room, but be a little more adventurous than you normally would with a bedroom or living room. These small areas are perfect for creating a dramatic impact and showcasing your personality and design flair as they are frequently used by guests you welcome into your home. We all have unique design ideas and tastes so I like to think of this room as a canvas. Don't be scared to experiment with different colors and textures to create something special and uniquely yours.